What is a floor scrubber?
The term "scrubber" is used to describe what we call an automatic scrubber. At its most basic, it's a mop-and-bucket replacement for a very capable, high-efficiency cleaning machine. Floor scrubbers do three main things at the same time:
1: It provides a cleaning solution for the cleaning brush or floor pad - either water or water mixed with floor cleaner.
2 : It uses equipment like brushes or floor mats to clean and scrub floors.
3: It has a recovery system that uses squeegee and vacuum cleaner to suck up the dirty water after cleaning.
It's a simple principle, right?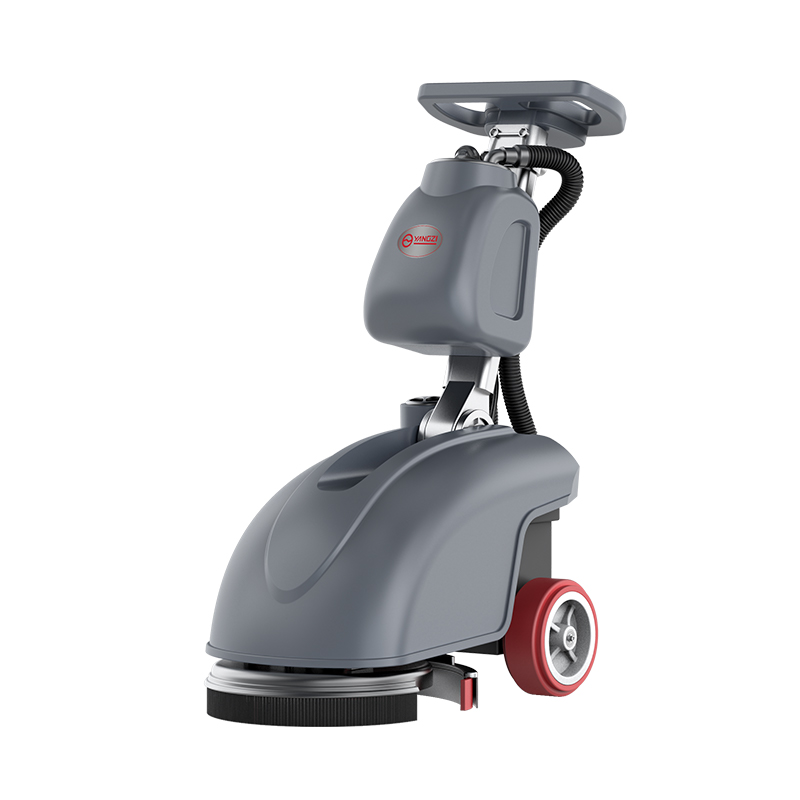 (Click on the picture to jump to this product page: Yangzi X1 floor scrubber)
What are the advantages of using a floor scrubber?
There are mainly 3 main advantages:
Advantage 1: Cleaning speed
Floors are cleaned much faster with an scrubber than with a mop and bucket. According to ISSA (the Global Cleaning Industry Association), it takes an hour to clean an area of about 1,500 square feet to 2,000 square feet with a mop and bucket. Whereas, with an walk-behind floor scrubber, you can clean approximately 20,000 square feet in the same hour. If you use a larger automatic scrubber, you can clean over 50,000 square feet in an hour.
Wow, really nice!
Advantage 2: Use less water
A second advantage is that scrubbing machine use much less water than mopping.
Not only is this good for the environment, but it makes efficient use of water and detergent when cleaning floors.
Advantage 3: Cleaner floors
The third advantage is that floor scrubbers will give you better cleaning results and hygienic floors.
The reason for this is that mopping spreads the dirt around, while automatic scrubbers suck it up and leave a cleaner, drier floor surface. The cleaning efficiency is very nice. Please watch our youtube video:
What types of floors can be cleaned with an automatic floor scrubber?
You can use it on any type of resilient floor surface such as vinyl, terrazzo, concrete, stone, and tile.

In some specialized applications you can also use automatic scrubbers, for example on wood.
But another rule of thumb you should always follow is to always check with your floor manufacturer to make sure you can use an automatic scrubber on it.
Why should you consider adding Yangzi's Floor Scrubbers to your inventory of cleaning equipment?
As mentioned above, there are many benefits to using a floor scrubber. They can keep your floors cleaner and drier than using mops and buckets, which helps prevent the risk of slips and falls in your facility and improves appearance. They clean much faster than mops and buckets, and it's easy to find the perfect tool for your unique cleaning needs. Whether you need a compact walk-behind scrubber to clean a narrow space, such as a hallway, or a larger ride-on scrubber to clean a larger surface area, such as a garage, we have a machine that's perfect for you of.

To learn more about our floor scrubbers, please feel free to get in touch with us.